WAHOO! COMING BACK STRONGER AND LARGER THAN EVER!
One door closes and another one opens.I separated from TME. It was mutual. As you know I am one of the most censored hosts in radio. It got to the point it was unbearable, suppose that was their plan. The Edge was zapped every day at 11:02 everyday. Time I could connect it only lasted 20 minutes. TME was not willing to upgrade gear to prevent interference. I don't like reruns. Todays news and comments are for the moment. The new network is by far the most cutting edge and will become your favorite. Bad news, It will also stream live video from my studio! Yikes! As always, I'll make you look good! Chat room will be great. SEE YA SOON.
Gold and Silver Prices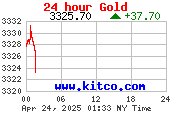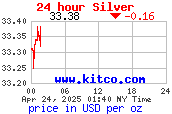 Reload page to update. Price update every minute.